how we interact with our tools
Consider the humble interaction of copy-paste.
Doing creative or professional work on a computer would be unthinkable without it. Yet it has many flaws—visibility of the buffer contents, as one example. Why haven't we been able to improve on this since the introduction of the clipboard in 1983?
This is just one example: most core interactions like overlapping windows, task-switching, command lines, hyperlinks, tabbed browsing, and pinch to zoom are a decade or more old. Perhaps the tech industry doesn't have much ambition here.
Some interaction innovation is happening with voice interfaces (Alexa, Siri), camera-first interfaces (Snap, Tiktok), and virtual and augmented reality including motion controls. But notable that these are mostly consumer and entertainment-oriented products, with little to offer makers or professionals to improve their productive computing lives.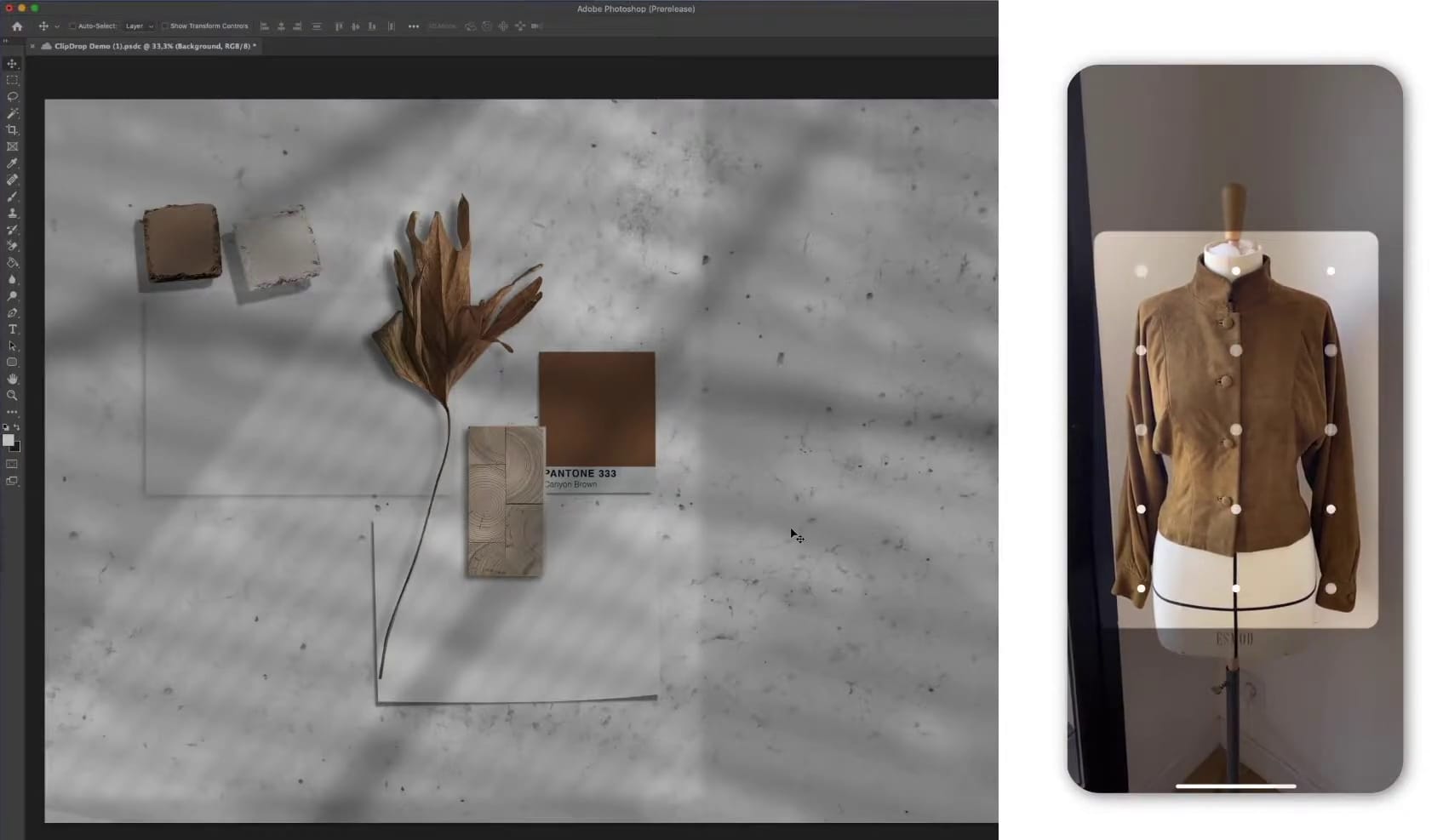 Recent productivity-oriented interaction breakthroughs I can think of (GitHub pull requests, Google Docs suggest changes, Figma observation mode, Roam backlinks) are in the application layer. These are good, but what about interactions that cross application boundaries?
That brings us to a delightful subgenre of concept projects to rethink the fundamental interactions of the OS. Some of my favorites are Artifacts, Mercury, Desktop Neo, and Semilattice.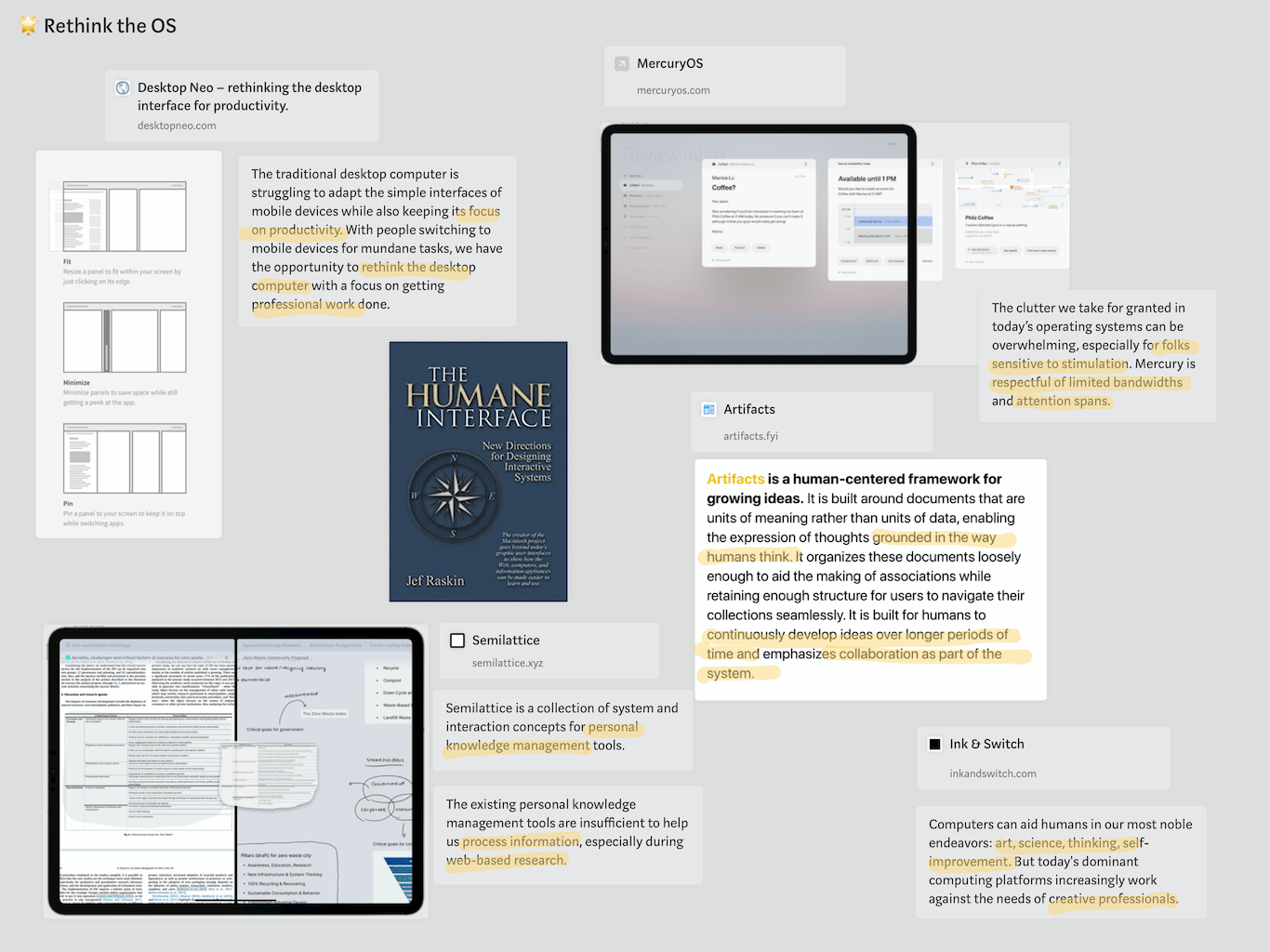 Most of these rethink-the-OS concepts never go beyond a concept sketch. That hints at the deeper structural problem for innovation on core interactions: we don't have the right institutions to create, implement, and bring to market such work.
Our existing institutions include:
Established OS makers like Apple, Google, Microsoft, and the desktop Linux ecosystem. There are occasional bright spots here (Apple Pencil, cursor morphing, the Surface Dial, tiling window managers) but mostly these companies do obvious iterations on established conventions. Creative tool breakthroughs come from weird ideas and soulful design best developed by small teams not constrained by the status quo.

Startups have a boil-the-ocean problem: Magic Leap, Pebble, Canon Cat, and PenPoint sunk tens or hundreds of millions of dollars unsuccessfully trying to remake everything and bootstrap a developer community. On the other hand, smaller/scrappier ventures expect short time horizons (e.g. ship an MVP in three months) which are insufficient to make meaningful progress in a space like this.

Human-Computer Interaction (HCI) is an academic field with lots of great work. But there is no good path for technology transfer for these ideas to leave the lab. And HCI is weighed down by a sense of scientific rigor ("this prototype reduced median task completion time by 1.3s") versus a subjective sense of a tool that feels good or makes the user happier in their creative life.
I have a hunch that a particular flavor of industrial research lab such as Bells Labs, ARPA, and PARC would be better for innovating on OS-level interactions. This is what inspired me to start Ink & Switch.
Other current independent researcher efforts include Andy Matuschak and DynamicLand. There are also some teams who are structured as commercial entities but with an indie researcher mindset, such as reMarkable, The Browser Company, MakeSpace, and Looom. Many of these have non-traditional funding sources such as nonprofit donations or crowdfunding. Whether any of these examples will yield repeatable long-term results remains to be seen.
The world we have: Our core tool interactions languish, partially due to lack of the right venues for innovation.
The world I want: Let a thousand flowers bloom of weird and wacky interaction experiments. Independent research offers an institutional vehicle for small teams to be funded over the longer term. Well-understood technology transfer process can bring lab results to widely-used products with the goal of making us all more productive and creative on our computers.